About me
For many years I have practised "martial arts" both nationally and internationally at relatively high level. I have been trained in various countries such as France, Denmark and Japan. In Japan I stayed for a longer period and during this stay I developed a sincere interest in Japanese culture and the history of the "Japanese Sword".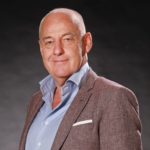 Egbert Menzinga.
Like any other collector I was very enthusiastic in gathering everything I came across at the start. At one stage my collection comprised over 70 swords and various accessories; However, of varying quality.
In time my collection reduced in quantity, and the quality increased significantly. All swords are polished and stored in a "Shirasaya". Most swords in my collection have Japanese documents, such as "NBTHK" or documents issued from other organizations. In addition, all my swords are provided with a "Koshirae". Both "Shirasaya" and "koshirae" are stored in old / antique silk covers.
My goal is to bring my Japanese collection to the highest possible quality level. Therefore I am always interested in and looking for high quality Japanese antiques. Through self-tuition, attending lectures and visiting Japanese collections worldwide, I have been and still am specializing myself in collecting high-quality antique, authentic Japanese swords. In addition, all items that I collect have my personal interest / preference. All these items have been examined by the "NBTHK" (or other organizations), and have been awarded Japanese certificates such as:Tokubetsu Juyo,  Juyo, Tokubetsu Hozon, Hozon etc.
Several swords of my collection have never been shown in public and are now displayed for the first time. Some pieces come from Japanese collections. Other pieces are obtained from prominent European collectors.
www.japanswordart.com
If this is the first time you encounter Japanese terminology: you will find an explanation under the heading "Nihonto" items.
I hope you will enjoy my website and are looking forward to your response.   
Egbert.